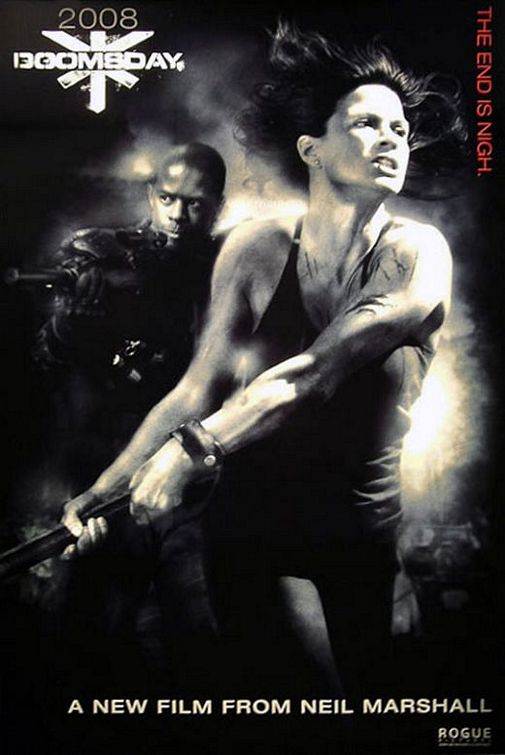 Plot An overall style of Terminator, with elements of Robin Hood, a dash of 24, and a sense of that New Zealand kids' programme The Tribe - mixed with a hell of a lot of action!
Review
Following Neil Marshall's previous writing/directing/producing efforts, Dog Soldiers and The Descent, I knew Doomsday was going to be a thrill ride from start to finish..and it didn't disappoint. Hailing from good old Newcastle upon Tyne (and incidentally attended my University), Marshall really grabs the horror genre by the horns and shakes things up by choosing to set his apocalyptic fated tale across London and Glasgow, showing the rest of the world that us Brits aren't all tea-sipping bumbling idiots that don't like to get our nails dirty!
The main protagonist, Eden Sinclair, kicks ass like we all wish we could - radiating bitterness and effortless cool simultaneously without being implausible as a character. The other less significant characters don't add much to the plot, but don't hinder it either. Notably good performances from British favourites Bob Hoskins (who I'll always remember as Mario Mario in the Super Mario Bros.) and Malcolm McDowell (who was seen playing the legendary Dr. Loomis, Michael Myers' Psychiatrist, in the Rob Zombie's Halloween). Some may criticize Marshall's lack of screen time dedicated to developing the somewhat 2-Dimensional characters, but I fully appreciated that the main thrust of this film is 'Action', which would only otherwise be smothered and dampened by deep, meaningful interchanges between characters unravelling their complex pasts.. we don't care about all that soppy stuff! Give us decapitations, flying limbs and frantic fights scenes anyday!
With a soundtrack that can only be described as 'Immense', especially to an '80s baby, the movie's climactic scenes are thrashed out to Frankie Goes To Hollywood's 'Two Tribes', and Kasabian's 'Clubfoot'! This film features one of the best cinematic car chases in the last few years, where there are explosions, decapitations, hit-and-runs, car-jacking, and many gruesome and unpredictable deaths.
Verdict: If you liked The Descent then this one is definitely worth a look. Ideal for those who love a good action film with a horror element, and the plot drives forward enough without dwelling or losing the audience's attention - a must see for all (except perhaps the very squeamish!)
[youtube=http://www.youtube.com/watch?v=bw4RMBjPVa8&feature=related] Buy 'Doomsday' on Amazon.co.uk